An online journey through Disney from the experiences of
Glenn, Tammy and Megan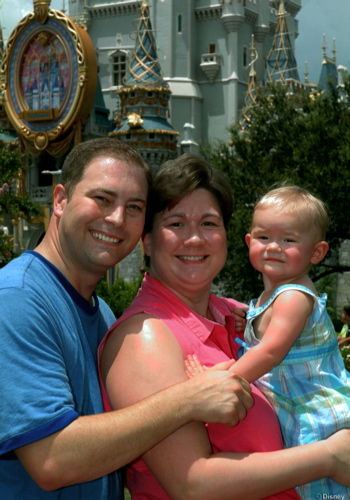 There are MANY wonderful sites dedicated to Disney on the internet. So instead of just duplicating what is out there already, we decided to try something a bit different. This is a personal account of Disney. In our Blog, we'll give you trip reports and tell you what we think about the attractions, resorts, dining and the like.
In the Photo Gallery, you will find pictures of the Disney theme parks and our family enjoying our time at the parks.
We have also started a new website: WikiDisney.com This site is intended to be the resource for facts on all things Disney. Please visit and add information to the database.
Why are we sharing our opinions and experiences about Disney? There are two main reasons: First, we are huge Disney fans. We took many trips to Disney with our families when we were younger, we got engaged at the Magic Kingdom on Christmas Eve 1994, and we go to the theme parks just about every weekend. In addition, Glenn participated in the WDW College Program in Spring 1991. So we know a little about the parks and the company. Second, as a result of our many visits to WDW, we have plenty of pictures that are just taking up space on our computer and photo albums, so we are using this as a sort of online photo album that we can share with everyone, especially everyone back home in New Orleans.
A little history about the name "DizWiz:" In 1993 Glenn signed up for AOL and was asked for a user name. Well, all the easy and obvious names that I wanted were taken, so I needed to get creative. I wanted a name that reflected my love for Disney, so I thought about it and thought about Disney Wizard, because I thought I was a wizard about all things Disney. I wanted to shorten it to make it catchy, so I came up with DizWiz. It's been my nickname ever since :-)
If you would like to know more about us, please visit WelchHome.com
To contact us, drop us a line here.
---
We recommend using Mozilla Firefox to view this site

---
Site last updated on 01/11/2007
DizWiz.com v2.0 - Site launched 10/01/03; v2.0 launched 08/04/06
© 2003-2007 All Rights Reserved
This is a non-profit site dedicated to sharing our expierences at Disney for the enjoyment of all. All Disney characters, multimedia and artwork are copyrighted by and/or are trademarks of the Walt Disney Company. This web site is not affiliated in any way with any Disney company.