Day Five - Thursday, September 11, 2003
Trip report by Glenn:
We woke up at 6:50 a.m. and we were docking in Port Canaveral. We were getting our showers and getting ready when Rachel, the cruise director, came on the loudspeaker to tell us that we were going to be delayed a bit. The Captain then came over the loudspeaker to tell us there were some security issues and it would be at least an hour's delay, but to go to breakfast as normal, and then the debarkation process would take place. (Notice the date above...)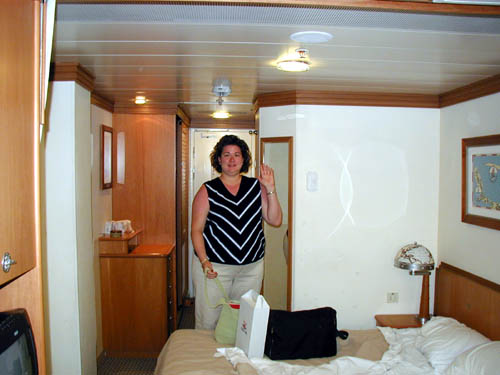 We woke up in a lot of pain because of the sunburn. We were completely burnt all over our bodies. It was painful to do anything. What a mistake we made!
Our breakfast was at Parrot Cay at 8:00 a.m. Tammy had Frosted Flakes and I had fruit. This was the last time we would see our servers and the people we ate dinner with. It was enjoyable and we said our goodbyes.
At about 8:45, we got in line to debark and Captain Henry was telling everyone good-bye. We were off the ship within about 10 minutes, and we found our luggage pretty quickly. Then we headed to our vehicle and headed home.
Needless to say, this was one of the best vacations ever. We both had an absolutely wonderful time! Now we just have to start planning our next trip :-)
If there's one thing we learned on this trip, it was to WEAR SUNSCREEN if we're spending any time in the sun, even if we don't think we're getting too much sun.
Until next time, Bon Voyage!