Day One - Thursday, February 5, 2004
-- See the Photo Gallery for Day One --
Trip report by Glenn:
We arrived at the DCL terminal in Port Canaveral, FL around 12:30 p.m. We dropped off our luggage curbside at the terminal, then went across the street to park. We walked back to the terminal and went through the metal detectors and up the escalators to the main terminal. Our paperwork was filled out, and we were on our way to the check-in desk. We received our "Keys to the World" and were on our way.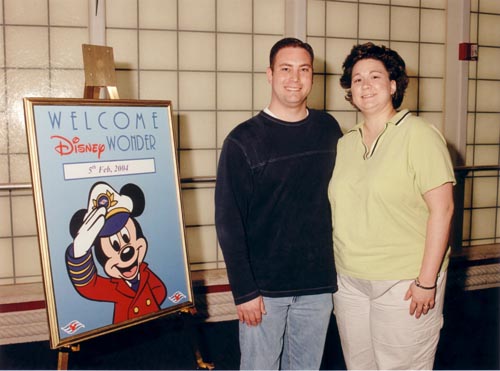 Everyone had already started boarding, so right after we checked in we boarded the ship around 1:15 p.m. When we entered the lobby, the cast member asked us our name, and then she announced our name to the ship and the CMs welcomed us by applauding. It was a nice touch. We bought the unlimited soda package and mugs in the lobby. Once on the ship, we went to our room to drop off our hand bags. It was room 2517, which is an inside stateroom on deck 2 forward. It was a bit smaller room than on our cruise in September, but it was fine. We then went to Parrot Cay for lunch.
After lunch, we headed out to walk around the ship a bit more until 3 p.m. when we could finally try to make our reservations to Palo. Unfortunately, they were booked for all three nights, so we put our names on the wait list.
It was getting close to the time for the safety drill, so we went back to our room until it was time for the alarm to sound. We donned our life vests and went to our designated area (Area A, which was in the Walt Disney Theater). Once the drill was over, we put the vests back in our room, and then headed up to deck 10 for the Sail-Away Celebration at 4:30 at Goofy's pool. We stood near the railing where we knew we would have a good view of the party.
We headed out of the port at 5 p.m. As we were leaving, I called my friend Chris to tell him we were on our way (and to rub it in a bit--although payback will be a bitch: Chris is going on the 7-day cruise in May and will give me payback in spades).
After we headed out to sea, we went to the atrium lobby and took pictures with Donald and Daisy.
We were thirsty, so we stopped at the Promenade Lounge. The bartender was very nice, and he brought out wings and nachos for us to snack on. We sat there for a little while and finished the snacks, then we headed off and took a photo with Pluto.
The shops opened at 6 p.m., so we went shortly after it opened and picked up a few things: photo album, scale model of the Wonder, towels, scrapbooking pages and Tammy's visor.
We stopped off in the atrium lobby and took a picture with Mickey and Minnie on the way back to the cabin.
The pin trading station opened at 7 p.m. Now, we're not really serious pin collectors, but my buddy Chris is, so I picked up a limited edition pin for him (and we got one for us too).
After buying the pins, we headed back to the cabin to get ready for dinner. We had the late dinner seating (8:30 p.m.) so we had some time. "Sweet Home Alabama" was on so we watched it while we got dressed.
We headed off to Tritons for dinner. We were seated at a table with another couple. We both ate a salad, the beef tenderloin for entree and Tammy had creme brulee for dessert while I had the apple tart. The food was very good.
After dinner we went to deck four and I gave Tammy an early Valentine's Day present: A necklace and heart-shaped pendent from Tiffany & Co. She seemed to like it ;-)
We went to Shutters and bought the photos that we had taken earlier in the day. Then we headed back to the cabin to get ready for bed. We watched "Two Weeks Notice" and then went to sleep.
All in all, it was a pretty good day.
On to Day Two...