Day Two- Friday, February 6, 2004 - Nassau, Bahamas
-- See the Photo Gallery for Day Two--
Trip report by Glenn:
I got an early start to day two and woke up at 7:15 and got ready. While Tammy was getting ready, I went to deck 9 to watch us dock in Nassau. I was overlooking the outside bridge and Captain Henry came out to dock the ship and told me "Good Morning!" Once we docked, the ship's horn sounded. (Gotta love "When you Wish Upon a Star")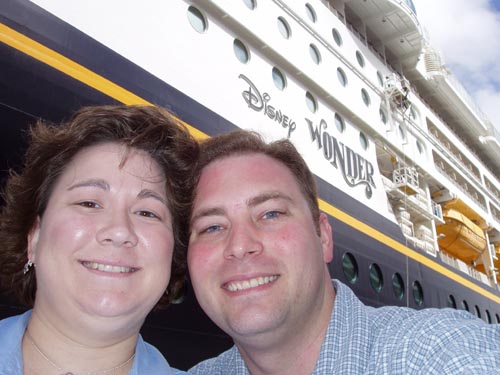 Tammy found me and then we went to Triton's to get some breakfast. I had the express breakfast, while Tammy had granola and and omlette.
Once we were finished with breakfast, we headed up to deck 4 to relax on the greatest lounge chairs on the planet. They are SO comfortable.
Shortly before lunch, we decided to get off the ship for a little while and take a few photos of the bow of the Wonder. We were only off the ship for a little while, since we toured Nassau briefly on our last cruise in September, 2003.
We boarded the ship, and headed up to Triton's for lunch. We both got cheeseburgers (which were pretty tasty) and met a couple that was also from Orlando. They were very nice and we chatted for a little while.
The Walt Disney movie "Miracle" premiered today, and they had a showing in the Walt Disney Theater, so we went and watched it. It was a pretty good movie.
Once the movie ended, we went back to the room and got the video camera. We toured the ship to get it on video, since we didn't take that much video during the last trip. While on our video tour, we stopped at the Internet Cafe and I checked my e-mail and sent a few messages off. We continued our tour and while on deck 9, we got a snack at Pluto's.
We headed back to the room and got washed up because we were going to take our picture with Captain Henry at 7:45 p.m. After we took our picture, we got a couple of soft drinks at Preludes and went back to the cabin to order room service. We ordered a couple of personal pizzas and just relaxed in our room. We watched some sitcoms on ABC.
At 9:30, we headed to Shutters to look at the pictures we took and bought the ones they had out. We then went to deck 4 for a little while, then to deck 10 for the Sail Away Party.
After the party, we went to the shops and bought a few things (DCL watch for me, palm tree pendent for Tammy).
We went back to the cabin, got ready for bed, watched "Intolerable Cruelty" on TV and went to sleep.
It was another good day in the Caribbean!
On to Day Three...