Day Two- Monday, September 8, 2003 - Nassau, Bahamas
-- See the Photo Gallery for Day Two--
Trip report by Glenn:
Day Two started around 8 a.m. when we woke up. We were arriving in Nassau and the ship was docking as we were getting ready. At 9 a.m. we were ready and headed out for breakfast. We headed for Triton's because Melinda, our server from Palo, told us that they serve breakfast to order. We both had the Express Breakfast, which consisted of the basics: eggs, bacon, hash browns and sausage.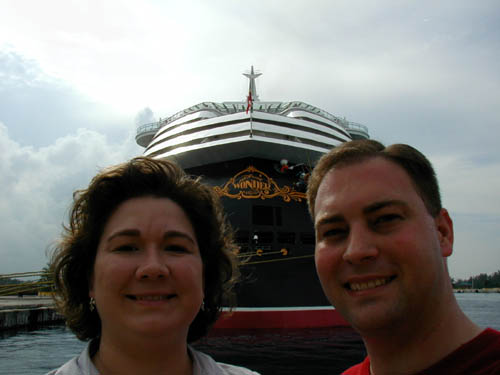 After breakfast, we headed to the Vista Spa to make a reservation. Tammy decided on a Spa Taster and made a reservation for 11:45 a.m. We also made a reservation for a tour of the ship's bridge at 3:30. We then walked around and took some pictures on the ship and looking out towards Nassau and the Atlantis resort. Then we headed back to our room.
It was time for Tammy's spa treatment, so she headed to the Vista Spa on deck 9. The massage therapist was Nina. The Spa Taster consists of a 25 minute massage and a 25 minute facial. Nina took Tammy back to the room and discussed skin care and relaxation techniques. Then the massage began and Nina massaged Tammy's back, legs, arms and neck. After the massage, it was time for the facial. This was a relaxing and cleansing facial and scalp massage. After the treatment was over, Tammy decided not to buy the $45 bottle of facial cleanser and lotion that Nina was offering. It was a fun, relaxing and enjoyable hour spent in the Spa.
While Tammy was in the Spa, I headed over to the Internet Cafe to check the score from the Saints game the day before (they lost 27-10 to the Seahawks) and to check e-mail.
After Tammy was finished with the Spa, we met up and went to deck 4 and sat in the wonderful and comfortable beach chairs on the deck under lifeboat 18. It was raining, so we decided to just relax on the boat for a while instead of heading out to Nassau. We stayed on deck 4 until about 2:45. This was a nice treat, as it was quiet, cool and comfortable. Needless to say, Tammy was very relaxed.
We were getting a rumble in our tummies because we hadn't eaten lunch yet, so we went to search out some food. All the restaurants had stopped serving lunch, so we ate a cheeseburger at Pluto's Dog House on deck 9, next to the Mickey's pool. Since this was our first cruise, we didn't know what to expect, but we had heard that there was plenty of food on cruises, but somehow this didn't seem to be the case. This was pretty much our only option for food. Yes, we were eating late, but we had a late breakfast, and we had a late dinner seating (8:30 p.m.). Anyway, we ate lunch and moved on to the bridge tour.
Our tour guide was Julie and it was pretty interesting. She pointed out the navigation systems (including the Mickey horn), and fielded a bunch of questions. A member of the crew came out of the office, and helped answer a few of the questions.
It had stopped raining, so we decided to head off to Nassau for a little bit after the tour. We got off the ship, and headed out to the city. As soon as we stepped foot out of the welcome center, we were hassled by some of the locals that sit around waiting for the tourists. Although I thought I would look good with braided hair, Tammy pulled me away to keep walking so we could see what else was around. Amazingly, Nassau reminded both of us of the Bourbon Street in the French Quarter in New Orleans, with all the tourist traps and people yelling at you from the doorways to come see what was inside. We went into one small shop called Tropic Traders and picked out a few little souvenirs. We then decided to get back on the ship. On the way back to the Wonder, we took a few pictures of the ship and of Nassau. We boarded the ship and headed to the room. Total time off ship: 30 minutes. I know this seems like a short period of time and yes, had we walked a little further, we probably would have found the quaint and charming Nassau. But, as I said before, it did remind us of New Orleans, and since that's where we're from, we didn't feel like walking around in the heat (boy was it hot) to continue exploring. Our first impression was just so bad because of all the hassling by the locals and the emphasis on shopping that we got a sour taste in our mouths. Maybe next time we'll try to be more open and know what to expect.
Once back in our room, we changed into our swim suits and headed to the Quiet Cove Pool on deck 9. This is the pool reserved for guests 18 and over. We swam for about an hour and it was a wonderful way to cool down after our tour of Nassau. Did I mention that it was hot? After we finished swimming, we headed back to our room to shower and get ready for dinner.
Our dinner seating was at 8:30 at Triton's. We hadn't eaten with our group the night before, because we had eaten at Palo, so we were a bit unsure if we would be welcomed with open arms. Our table was number 18, our server was Oral, the assistant server was Ben and the head server (who really didn't do anything but mingle) was Rita. Oral and Ben both introduced themselves to us and asked us where we had been the night before. We told them Palo, and they thought that was wonderful. They didn't give us a hard time. When we arrived, a family of four was already seated and they were very pleasant. Since we booked the cruise through the Cast Member discount, we were seated with other CMs. The gentleman who was already seated was the Purchasing Manager for seafood and produce for Disney. The final two members of our dining group showed up shortly after we were seated. He worked in Guest Relations at Disneyland and brought his Mom on the trip. They had eaten at Palo the night before as well, so we weren't alone. It was a great group of people and we all got along pretty well. However--and this is going to sound bad--we didn't get anyone's name at any point during the trip, except for the two children (Mercedes and Luke). Oh well...
Dinner was served and Tammy had shrimp medley for appetizer, sirloin and mashed potatoes and carrots for entree and creme brulee for dessert. I had a fruit bowl for appetizer, cheese ravioli for entree and an apple tart for dessert. It was all pretty darn good (but not as good as Palo!).
After dinner, we headed to the shops on board--Mickey's Mates and Treasure Ketch and bought a few souvenirs. We then headed down to the photographer on deck 3, and took a formal picture since we were dressed up.
We then went back to the room to change and then headed up to deck 10 to the Tropical Deck Party at 10 p.m. as we were leaving Nassau. It was a full moon, so I took some pictures of the ship and the moon. After we had left Nassau, we went back to the room to get some sleep.
This was a long and eventful day, so it didn't take long to get to sleep.
On to Day Three...