Day Three - Tuesday, September 9, 2003 - Freeport, Bahamas
-- See the Photo Gallery for Day Three --
Trip report by Glenn:
We started Day Three a bit late, as we didn't wake up until 10 a.m. We had already docked in Freeport. We got showered and dressed, and went to breakfast at Parrot Cay at 11 a.m. We were trying to eat every meal a bit later, since we knew we weren't going to eat dinner until 8:30 p.m. Breakfast was a buffet and it was pretty good.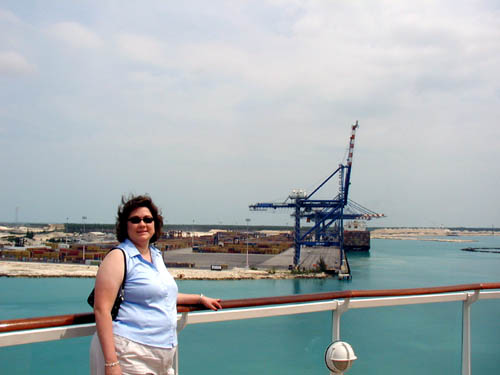 We figured we wouldn't leave the ship this day, and after seeing where we were docked, our thoughts were confirmed. To do anything in Freeport, you need to go far away from the dock because there was nothing there. If we had done an offshore excursion, this would be the day to do it. So, knowing we weren't going anywhere, we decided to take it easy on the ship.
We pretty much just walked around the ship, went to deck 4 and sat on the beach chairs again, and then we even sat inside on deck 4 overlooking the lobby for about an hour. The Disney Princesses showed up, and we watched them take pictures and sign autographs for the kids. It was nice. We also went to deck 10 and watched the freighter ships being loaded with cargo. Tammy said the operation reminded her of the Dozers on Fraggle Rock because it was so automated and there were a bunch of things happening at once. She's right.
It was around 4 p.m. when we decided to eat lunch. Once again, none of the restaurants were open, so we headed back to Pluto's Dog House to eat again. Tammy had a cheeseburger and I had chicken tenders. Obviously, almost everyone stayed on the ship because it was pretty crowded. And the kids were bouncing off the walls and were everywhere. Needless to say, it wasn't a peaceful lunch.
After we finished eating, we went to deck 10 and watched us undock and leave Freeport. We saw Captain Henry piloting the ship from the outside bridge, while the Sail-Away celebration was going on in the background. I was videotaping the undocking, and got the "When You Wish Upon a Star" horn on tape. Whoo-Hoo!
After we were back in the ocean again, we decided to go back to deck 4 to sit in the chairs again, but for some reason, it was really hot there, and there wasn't much of a breeze. So we decided to go back to the room for a bit. "Daddy Day Care" was on TV, so we watched it. Pretty cute movie. We then got ready for dinner.
Dinner was at Animator's Palate. Tammy had actually eaten here before, because she went over with some other Cast Members before the ship had sailed for the first time to test the restaurant. She enjoyed it during that testing. I had heard about the restaurant through articles and TV stories about it. It cost $3.4 million to build, so it wasn't cheap. Perhaps it was too much buildup and too much to live up to, but neither of us really enjoyed the experience, and the food was probably among the worst on board. Tammy had stuffed tomatoes and a Caesar salad for appetizer, roasted chicken (on the bone) for the entree, and Boston cream pie for dessert. I had Caesar salad for appetizer, veal (on the bone) for the entree and cheesecake for dessert. Both entrees were pretty bad, but dessert was fine. All in all, it was pretty disappointing.
After dinner, we went to the Buena Vista Theater to see a showing of "Pirates of the Caribbean" (how appropriate) at 10:30 p.m. It was pretty crowded, but we had OK seats close to the screen. However, about 10 minutes before the movie started, it filled up with LOUD children, so we decided to leave. We had already seen the movie, so it wasn't a huge loss.
We went back to the room, and "The Italian Job" was on TV, so we watched that and went to sleep.
It was a pretty relaxing day, but it was only so-so compared to the previous two days. We hoped that the final full day would be a LOT better.
On to Day Four...