Day Four - Wednesday, September 10, 2003 - Castaway Cay
-- See the Photo Gallery for Day Four--
Trip report by Glenn:
We knew we would be docking pretty early when we got to Castaway Cay, so we woke up at 8 a.m. (we weren't going to shower, since we were going to spend the whole day at the beach). Well, when we woke up we were docking, and it was RAINING. We were pretty upset, because we were going to head out first thing. So, we decided to grab some breakfast until the rain stopped.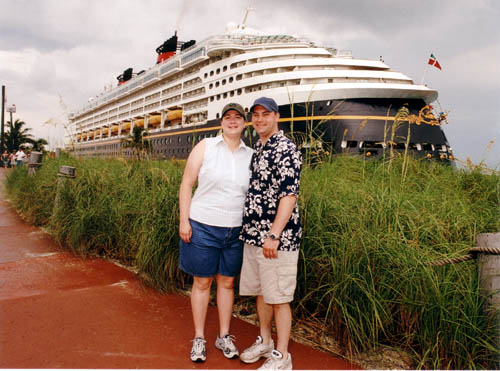 We headed up to Beach Blanket Buffet for breakfast. It was pretty good. Around 11 a.m. the rain let up and we got off the ship.
As you leave the ship, you get a towel from a Cast Member and then head up the path to the tram stop, or you can walk the short distance to the beach. On the way to the beach there was a Disney photographer taking pictures with the ship in the background, so we posed for a picture. We then headed past the main beach to the tram stop for Serenity Bay Beach (the 18 and over beach). It was a short tram ride to the beach.
The beach was pretty empty, since most people hadn't gotten off the ship because of the rain. We found a couple of beach chairs under a yellow umbrella and plopped our stuff down. We had purchased a disposable waterproof camera before the trip, so we got out the camera and went swimming in the ocean. We would go swimming for about half an hour, then lounge on the beach under the umbrella for about half an hour, and repeated this process until about 3 p.m. This was absolutely the best part of the trip, and we didn't want it to end. If you ever wanted to know where paradise on earth is, it is located at 26°05.682'N, 77°32.548'W. We didn't even eat because we didn't want to leave the beach. We did get a Konch Kooler, which was a rum drink kind of like a pina colada, but fruity. It was pretty good.
Unfortunately we also made the biggest mistake of the entire trip while on the beach. We didn't wear any sunscreen. We had sunscreen, but we didn't put any on. We don't know why, but we admit this was very stupid because we got VERY burnt. It wasn't too painful yet, but the worst was yet to come.
Everyone had to be back on the ship by 4 p.m., so we started heading back around 3 p.m. We stopped at She Sells to look for some souvenirs and bought a few items, including postcards. We stopped at the post office to write out and mail the cards, but they didn't have a pen. So we got back on the Wonder, and headed quickly to our room to write out the cards. I headed back off the ship to the post office and bought some stamps and mailed the postcards and headed back to board the ship.
I went to the Debarkation Presentation in the Walt Disney Theater at 4:30 p.m. while Tammy ordered room service. The room service arrived pretty quickly and Tammy went ahead and ate. We didn't know they were going to repeat the presentation on TV, so it was a waste of my time. But we did learn some important information, so it wasn't a lost cause. When I returned, I ate my lunch/dinner (linner). "Hercules" was on TV, and it was about half way through so we watched that, and then we watched most of "Bruce Almighty" on TV while we got ready for dinner. The sunburn was starting to come out, and neither of us felt too well, but we decided to go to dinner anyway.
Dinner was at Parrot Cay and it was OK. Tammy had lobster and crawfish bisque for appetizer, steak and lasagna for entree and "Celebration Cake" for dessert. I didn't have an appetizer, but had risotto with black eye peas for entree and apple and cranberry pie for dessert. Tammy didn't really like her entree and I didn't feel like eating because he felt horrible because of the sunburn.
After dinner, we went back to the room, got comfortable and headed back to the shops to get some aloe vera. We went back to the room and finished packing and put our luggage outside the room by 11 p.m. We slathered on the aloe vera and went to sleep.
This was the best day of the trip, by far. The only bad parts were the sunburns and the rain in the morning, which shortened our day on the beach. But it was still a wonderful day, and we were sad that the trip was coming to an end.
On to Day Five...