Day Three - Saturday, February 7, 2004 - Castaway Cay
-- See the Photo Gallery for Day Three --
Trip report by Glenn:
Since we had such a great time at Castaway Cay on our last cruise, we wanted to get an early start to be able to claim a prime piece of real estate on Serenity Bay to spend the day. We woke up at 7:30 and got ready. We then headed to Beach Blanket Buffet to eat some breakfast. Then we headed off the ship around 9 a.m.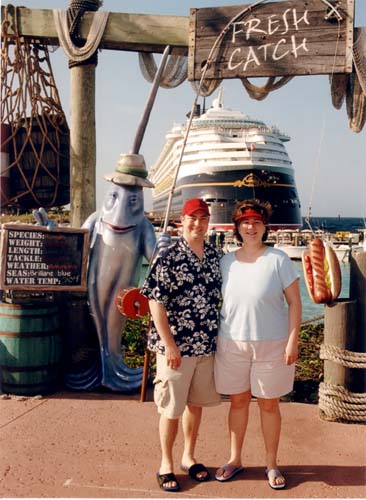 We took a few pictures, then headed straight to Serenity Bay (the adult-only beach) and got a couple of lounge chairs under a purple umbrella in a great location. It was close to the lunch area and the restrooms.
All we did was relax on the beach the whole day. Around noon, we got hungry and went to get some lunch. There's a lunch area where they serve some BBQ and hamburgers. They were playing "Cheeseburger in Paradise" by Jimmy Buffet--how appropriate! Tammy got a hamburger and I got a cheeseburger. They were yummy!
Once we were finished eating, we relaxed a bit more on the beach. Then we decided to go in the ocean for a little while. Remember--it's February. The water was COLD. But, we got acclimated to the temperature and stayed in the ocean for about an hour. We took a waterproof camera, and got pictures of some fish that were swimming nearby. And, as we did last time, we took some water and sand back in a bottle.
Around 1:30, we decided to head back to the main part of the island to do some shopping. I stopped at the family beach and took a picture. Boy, was it crowded there!
We stopped at She Sells Sea Shells and bought some souvenirs and post cards. After shopping, we stopped at the post office and bought some stamps, wrote out the post cards and mailed them.
We then boarded the ship and got cleaned up. While we were getting ready, we watched "Radio" on TV. Once the movie was over, we went up to deck 10 to watch us leave the island. We left Castaway Cay at 5 p.m. Captain Henry sounded the horn twice as we left.
As we were on our way out to sea, we decided to watch the sunset from deck 10. It was a beautiful sunset and the photo below doesn't do it justice.
After the sunset, we ate a snack at Pluto's Dog House on deck 9. After the snack we got ice cream cones from Scoops nearby. Once we finished the ice cream, we went to Shutters and bought a few more photos.
Captain Henry was signing autographs at the store, so we headed up and got our map signed.
We went back to the cabin and ordered room service and watched "Runaway Jury." I got a hamburger (yes, another hamburger) and Tammy ate a tuna sandwich and tomato soup.
We then packed our luggage and placed it outside the door for pickup. We got ready for bed and watched "Two Weeks Notice" as we went to sleep.
It was a great day at Castaway Cay. I don't think you could have a bad day there. And, unlike our last trip, we didn't get sunburned :-) So we could enjoy the rest of the day on the ship as well.
On to Day Four...